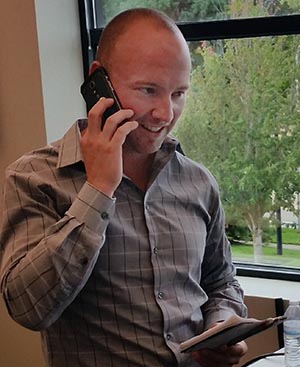 Behind the Scenes: A Conversation with Planar's VP of Sales, Adam Schmidt
We are running a series of interviews with our executive team. Today we hear from Adam Schmidt, the VP of Sales.
Planar: How long have you been at Planar? In the industry?
Adam Schmidt: I've been at Planar since June 2001. Before I came to Planar I was at an Electronic Design Automation software company where I worked in competitive intelligence and market research.  I've always been a bit of an A/V geek, but my time at Planar is my only experience in the industry.
Q: Why did you come to Planar?
A: When Planar recruited me, I was working at Mentor Graphics after interning there during grad school.  Mentor is, and was, a fantastic place to work, but I was in a role where I was in an office all day, every day.  I was typecast as an analyst, and completely detached from all customer activity.  I knew far more about our competitors than I knew about our own company or our own customers. That wasn't natural for me. At the time, I didn't know exactly what I wanted to do, but I knew I wanted to be in a role where I could explore the various functions of a business.  I also knew I wanted to be out in front of customers and I wanted to work towards a position where I would be able to lead a team. This all seemed unlikely to happen anytime soon in the position I was in. Then Planar came along, a company that encouraged employees to move around and explore different parts of the company, and that had products and customers that really resonated with me.  It was also clear that if I delivered results, and did it the right way, I had a good chance to take on more responsibility and eventually accomplish my career objectives.
Planar was creating cutting-edge display solutions for mission-critical applications, and this inspired me to dream about the ways that Planar could improve the visual experience in all kinds of applications, markets, and geographies. I could see in my own life where I was using newer display technologies, and I could see how beneficial they could be. Take digital photography, for example. This was right around the time when the whole world was converting from film to filmless photography. The cost and hassle of film disappeared, practically overnight. It wasn't hard to imagine similar possibilities of that in a number of critical industries, and very soon after starting at Planar, I was working on digital imaging products in Healthcare. Trust me, it's not hard to get passionate about creating and delivering new display technologies to help Radiologists and other clinicians improve the quality, and drive down the cost, of healthcare around the world.
So for a whole host of reasons, Planar was, and is, a very interesting destination. Over the last 15 years, it's been everything I'd hoped it would be. I've had a chance to move around and learn different parts of the organization, and get increasingly close to and responsible for our customer's success. I'm in a position to lead a diverse team to accomplish their own personal and professional goals, and ultimately, be who, where, and what they want to be.
Q: What makes Planar customers unique?
A: One of the reasons I still love being at Planar is that I get to work so closely with so many of our customers. What I think makes our customers unique is that they come from all walks of life, but they're all share an intense desire for world-class visualization tools. Our customers include the finest retail brands, the world's leading healthcare institutions, a who's who list of Fortune 500 companies, the most-respected higher education institutions, and critical Department of Defense installations. Generally, our customers care so much about what they see on their screens because they're either making critically-important decisions based on what they see, or they're using our display systems to build upon their own brand promise with their most important constituents.  Regardless of which of our customers we're working with, our displays must look great, be supremely reliable, and be easy to live with and own.
Q: Planar values Innovation. How is that demonstrated throughout the company?
A:  I see innovation at Planar in three key areas: products, people, and processes.
Practically every product that we release has a long list of features that you just can't find anywhere else. This ranges from the basic systems architecture (things like off board power supplies), to the features that we integrate into the displays, like enhanced processing capabilities or optically-bonded screens that ruggedize the screens. We have a long history of engineering unique capabilities into our systems, and I'm continually-amazed by the cool things our team comes up with.  
Our people are innovative by necessity. I'm closest to the selling activity, so I'll focus there. Successful selling for Planar is all about getting to the decision-makers first, crisply communicating the unique value we offer, and doing what it takes to deliver successful deployments to our customers. Planar doesn't have the most brand awareness, the biggest staff, or the lowest prices, so we use more innovative means of outselling our competition. I don't want to give away our secrets, but we've earned significant growth in market share and profitability over the last few years, and much of that growth stems from the innovative tactics we use to get to the decision-makers first, crisply communicate our value, and successfully deploy – time after time.  
Our innovative processes are also central to our success. We compete primarily with a bunch of behemoth companies who don't do well with variety or complexity. Basically, the people interfacing with customers often have very little leeway to take care of customers' problems. They are slaves to process, even when the process doesn't work. Customers feel that, and customers hate that. Planar, on the other hand, is innovative in the sense that our customer-facing employees have quite a bit of latitude to do what matters most: fix customers' problems. This is true across all of our customer-facing functions, and our customers tell us all the time how much they appreciate the human touch and the individual treatment they get when they work with Planar.