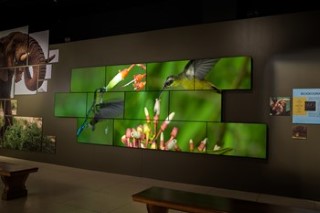 Trends in the use of digital displays in museum environments
Museums exist to expand our knowledge, stimulate our senses, expose us to new experiences, and engage our participation, as we explore our shared history and the natural world. In recent years, new technologies have expanded the dimensions and capabilities of museum exhibits, turning visitors from passive observers to actively engaged participants. AV technology is inspiring museums to supplement static display techniques with dynamic, responsive, participatory museum environments.
Larger video displays and interactive flat screens have become fixtures and communication tools in many modern-day museums. Specifically there are three major trends in the use of digital displays in museum environments:
Large video walls that introduce exhibits and set visitor expectations
Increasing use of interactive touch screens to encourage visitor engagement with exhibits
Greater use of video installations as architectural elements to create visually rich visitor experiences
Today, it takes a lot of effort to draw prospective museum goers away from their on-demand content and the convenient screens of their computers, televisions, tablets, and smartphones and convince them to attend a live exhibit in person. Faced with this challenge, museum planners and designers have been tasked with not only providing exceptional experiences to visitors, but also finding ways to inspire and amaze them.
To do this generally requires using every technique and technology available to excite, awaken, stimulate, surprise, and entertain visitors—beginning the moment they enter the lobby. Advanced display technologies, working alongside other media and methods, have proven worthy of the challenge, bringing dynamic color, light, full immersion, and magic to museum exhibits. The same is becoming true in other environments and visitors continue to raise the bar of what they expect from the buildings and spaces they enter. They crave engagement, which means a richer visual imagery, more interactivity, and memorable experiences that they take with them.
Ultimately, the goal is to attract the visitor, provide a memorable experience, and encourage return visits. The Museum Trends eBook explores the design trends that are influencing museum displays around the world and affecting the ways in which information is presented. From the lobby onward, the descriptive power of video imagery sets the tone for a museum tour and provides an effective way to control the atmosphere, the nature of the presentation, and the full sensory experiences of visitors.
To read more about these trends and the technologies that are being deployed in museums, see the Museum Trends eBook.