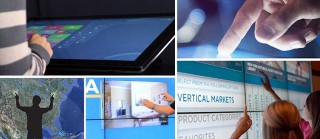 Interactivity in Reality : Creating Interactive Content
In this first post of this series, we talked about the tools, both software and hardware, used to create and deploy interactive content. In the second post, we discussed basics of user interface design. And in this third and final post, we'll have some case studies of effective content development that we have seen for Planar touch displays in various sizes.
Planar's library of case studies and installation profiles includes many touch interactive displays. I wanted to highlight a few of those here.
Engaging Museum Visitors
The Oregon Museum of Science and Industry (OMSI) is an award-winning museum in Portland, Oregon. They partnered with Fashionbuddha Studio, a local design firm, to create an interactive exhibit to showcase the work of 12 innovative Oregonians and used Planar's interactive EP series deplays in the Brainstorm design. The large format technology allows for multiple touch points and allows visitors to browse through photos, text, and video content to create a personalized learning experience.
Keeping a Factory Running Smoothly
Minneapolis-based Sensory Environment Design (SED) used Planar's Clarity® Matrix™ Multitouch in a control room for Cardinal Glass Industries, located in Portage, Wisconsin. From monitoring plant operations and process monitoring to annotation applications for their employees, the interactive video wall, featuring Extended Ruggedness and Optics™ (ERO™), provides a reliable video wall and engaging interactive experience.
Honoring a Proud Tradition in College Athletics
The University of Michigan has long been known and admired for how it supports its teams and engages with fans. That commitment is ongoing and is particularly evident at the Crisler Center, the iconic home to University of Michigan Wolverine basketball as well as many other indoor sports. This connection is reflected in a wide array of interactive displays from Planar that create excitement, increasing game attendance and directly support the university's recruiting and revenue generation efforts. With extensive support of Dimensional Innovations of Overland Park, Kansas, Crisler Arena has been equipped with Planar® PS Series LCD displays and Clarity® Matrix™ LCD Video Wall displays installed throughout the arena's concourses and in the William Davidson Player Development Center for basketball. Curtis Walker, technology project manager at Dimensional Innovations summed it up well when he said "The interactive capabilities of the Planar PS Series and Clarity Matrix displays deliver the exceptional engagement experience that Michigan wanted for the Crisler Center."