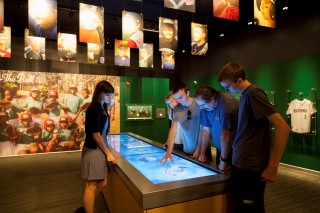 Why Touch Interactivity? Oh, Let Me Count the Ways.
Planar has a growing number of products with touch sensors integrated in adding interactive capability to monitors ranging from 15" to 300" video walls, like the Clarity® Matrix™ MultiTouch.  The brand new Planar® UltraRes™ Touch, Planar® EP Series and others have models with touch integrated, now in 4K resolution for even better readability and image quality.
If you have never used touch interactivity on a big screen, you might be wondering how to best put it into practice.  To spark some ideas, below is a list of ideas how our customers can use touch interactivity to grow their businesses and engage their customers. 
Wayfinding in shopping centers, airports, hospitals, college campuses, and more
Deliver a compelling live presentation, swiping through slides and playing videos
Virtual concierge services in hotel lobbies or condominium complexes
Reduce perceived wait time in retail or banking with games
Virtual bank teller applications
Create self-registration applications
Gift recommendation kiosk in retail
Educate museum visitors about exhibits, including rich media content
Retail visitors can shop virtual aisles and see products that aren't on the sales floor
Control the show with an interface connected to multiple pieces of equipment, including displays, lighting, audio, and content sources
Productively use new desktop applications and operating systems designed for touch
Retail visitors can opt in for email follow-up with their favorite brands or stores
Provide health and wellness data on interactive kiosks in medical provider offices
Provide nutrition information and recipes in a grocery store
Enable self-check out applications in retail
Self-service ticket machines for train stations
Enable self-check in for patients or family in a hospital or medical office environment
Choose-your-own-adventure storybooks
Bar code scanners and price checking applications in retail
Gift registry kiosks in retail for wedding, baby, new home, and other occasions
Virtual dressing room applications in fashion and accessory retailing
Enter contests or drawings at regional fairs or amusement parks
Pop-up retail store
Virtual catalog for showroom applications
Download or print coupons or special offers from in-aisle kiosk
Deliver personalized messaging based on user selections or database integration, including ibeacon or RFID integration
Visit casestudies.planar.com to read about case study applications by vertical market, watch videos, and learn more about Planar's unique and innovative display solution.