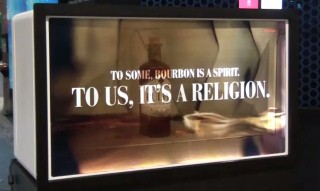 Tapping into Power of Planar: A story of partnership
At this year's InfoComm International show in Vegas, we wanted to highlight the Planar® LookThru™ transparent LCD displays. This product allows consumers to view physical products behind an LCD surface glass and is ideal for retail merchandising, corporate displays, exhibits, award or trophy cases in education or corporate settings, tradeshows, and a wide range of other architectural applications.
To show off it's capability to the fullest extent, we partnered up with Power Creative out of Louisville, Kentucky, to develop an experience that combined transparent LCD with touch interactivity. Being true Kentuckians, they came back to us with an idea to use the display for – you might've guessed – bourbon whiskey. But not just any bourbon – a new brand they made up just for this project. We were thrilled, and the end result is not just an engaging, creative story. It's an experience that any consumer brand will appreciate.