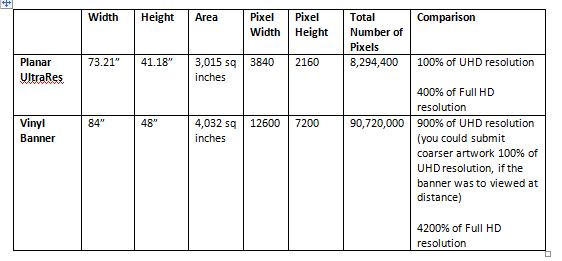 4K Advertising Face-Off #3
The AV industry has been reacting to the new Ultra HD or 4k resolution displays and many have brought up concerns about the "availability of content."  In this series, we will face off the resolution of a 4k Planar® UltraRes™ with a variety of common advertising platforms to illustrate that experienced graphic designers, advertisers, and brands have no problem creating "beyond HD" content and in fact, have been doing it for decades.
In this third battle round, we compare the Planar UltraRes 84" LCD display with a full-color vinyl banner the likes of which might be used to announce a store grand opening or special promotion.
The Planar UltraRes measures 84" diagonal, or more than 6 feet across (in landscape, although the product can also be mounted in portrait for life-size impact). The pixel resolution of the display is 4x full HD or 3,840 pixels wide by 2,160 pixels tall.
Vinyl banners have been used for decades and can be inexpensively produced by literally thousands of shops across the United States and the world. Banners are available in custom and standard sizes. To make the comparison simpler, we have chosen a vinyl banner that is roughly a 16:9 aspect ratio to match the Planar UltraRes. 
The banner we selected measures 84" wide and 48" tall, just slightly bigger than the UltraRes since banners are specified in feet and we wanted something with a similar visual impact. At the recommended 150 (or greater) dots per inch for digital files, the files would measure a whopping 12,600 pixels wide and 7,200 pixels tall. To compare different aspect ratios, we can multiply the width and height to achieve a total pixel count.
In the final tally, the resolution of a full-page spread in the New York Times requires a file that about 80% of the size that is required for native resolution on an UltraRes display, but is still 212% the resolution of a full HD display.
Downscaling a vinyl banner design to a Planar UltraRes display would look incredible and the image could be displayed full screen on in a quadrant of the display (downscaled appropriate) with the unique MediaPlex feature in UltraRes.