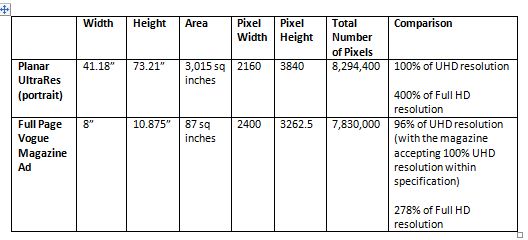 4K Advertising Face-Off #2
The AV industry has been reacting to the new Ultra HD or 4k resolution displays and many have brought up concerns about the "availability of content".
In this series, we will face off the resolution of a 4k Planar® UltraRes™ with a variety of common advertising platforms to illustrate that experienced graphic designers, advertisers, and brands have no problem creating "beyond HD" content and in fact, have been doing it for decades.
In this second battle round, we compare the Planar UltraRes 84"  LCD display with a full-page advertisement in the influential Conde Nast publication, Vogue.
The Planar UltraRes measures 84" diagonal, or more than 6 feet in height in portrait mode. In that vertical orientation, the pixel resolution of the display is 4x full HD or 2,160 pixels wide by 3,840 pixels tall.
In circulation since that first issue on December 17, 1892, Vogue magazine has been named the world's most influential fashion magazine and boasts a circulation of 11.3 million in the US and 12.5 internationally. It is the go-to publication for high fashion brands and in September 2013 a 12 page spread in the magazine was used to help launch Google Glass.
A full-page ad in Vogue measures 8" wide by 10.875" tall. Newsprint is notoriously difficult to print upon because the ink absorbs into the paper and spreads. As a result, the off-set printing process for newsprint is a coarser than the equivalent glossy magazine ad. At the recommended 150 lines per inch used for off-set printing or 300 dots per inch for digital files, the files would measure 3,502 pixels wide and 1,849 pixels wide. To compare different aspect ratios, we can multiply the width and height to achieve a total pixel count.
In the final tally, the resolution of a full-page in Vogue requires a file that about 95% of the size that is required for native resolution on an UltraRes display, but is still 278% the resolution of a full HD display. This variance is within the mechanical specifications for the ad submission. In other words, the magazine would take a submission that was 100% UHD resolution.
Not surprisingly an increasing number of fashion advertisers are shooting with 4k cameras, like those made by RED Digital for both their print and video needs. The likes of Vogue, Bazaar, Elle, GQ, Esquire, W, Time, Vanity Fair, and more have all shot cover artwork using a 4k video camera.
If the aspect ratios were compatible, upscaling a Vogue advertisement to a Planar UltraRes display would look nearly three times as good as a full HD (1920 x 1080) image on the screen which customers do all the time and the Planar UltraRes supports with it's 8 distinct inputs all capable of 4k and 1080p input and the unique MediaPlex features.