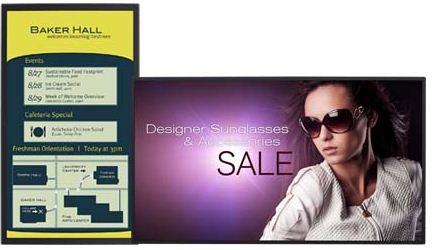 The Lowest Priced 24x7 Digital Signage Displays on the Market
When it comes to digital signage, you want to make sure you get the most for your budget dollars. The best way to ensure lasting reliability and performance is to select a robust display recommended for up to 24x7 usage. The price premium for this level of quality can be up to 2 times more expensive than a commercial display with lower recommended hours of operation. But it doesn't have to be. Typically, 24x7 digital signage displays come standard with other features you don't need such as higher brightness or OPS slots. Why pay for those features when you don't need them? Planar's PS Series is the lowest cost 24x7 rated line of products available…period. For a quick comparison let's look at the NEC X462S. This model sells for $2000 while the equivalent 46" PS Series model (PS4652) is listed at only $1625. And the PS Series displays come fully loaded with the features that matter most, including a full array of inputs and control, USB playback, energy efficient and ultra-slim LED backlight, internal speakers, logo-free metal bezel, video wall scaling, and 3 year warranty. If you are looking for the best value in digital signage, the PS Series is the end of your search. The full line of PS Series models includes:
• PS4652   46" Commercial-Grade 24x7 Display
• PS5552   55" Commercial-Grade 24x7 Display
• PS6552   65" Commercial-Grade 24x7 Display
• PS4660T 46" Commercial-Grade 24x7 Touchscreen
• PS5560T 55" Commercial-Grade 24x7 Touchscreen
• PS5580   55" Commercial-Grade 24x7 Narrow Bezel Display for Video Walls
And look out for additional models to join the line later in 2014!