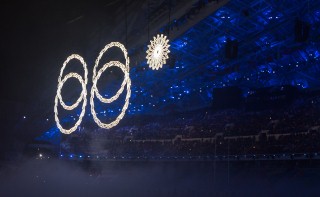 Observations from the Sochi Winter Olympics: AV on a World Stage
Watching this year's opening ceremony of the Sochi Winter Games, one couldn't miss the drama around the malfunctioning Olympic ring. For those of you who missed it and the resulting media firestorm, in the otherwise flawless presentation on Russian history and passions, five snowflakes made of LED lights on motion control bars were to be transformed into the five overlapping rings of the Olympic logo.
And one of them malfunctioned revealing four rings and one snowflake. Those of us who have been involved in events and technology gasped with horror as we all have been there. The rehearsals go perfectly, the equipment is world-class, everything is triple-checked, and then at showtime something goes wrong unexpectedly. I guarantee everyone in AV watched this breathlessly, as the scene was all too familiar. The sense of magic frays when people see the trick.
Like Olympic ceremonies for years, this year's pageantry relied heavily on AV equipment to set the stage, to tell the story, and to deliver an impact. The glitch simply reminded all of us and how much AV technology has become common place, how high are expectations have become, and how the drama of the Olympic games isn't always in the rink or on the mountain.
Naturally, the day after the ceremony, t-shirts with that misshaped logo were already available for sale. And in the closing ceremony this week, they poked fun at the original mistake by doing the same trick, this time with human actors. And magic is restored as people shift their focus to other important matters on this world stage.
Although the Olympics takes things to a huge scale, spectacular AV is becoming commonplace in venues ranging from retail showrooms to corporate lobbies to broadcast studios. The stakes are high, the expectations are elevated, and the possibilities are endless. 
By Planar Systems
* The photo above is attributed to Iurii Osadchi / Shutterstock.com