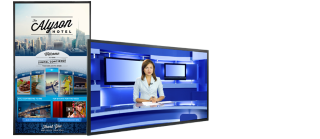 What's new about the HDMI 2.0 standard?
In HDMI 2.0, the biggest improvement was nearly doubling the bandwidth, allowing for up to 4K at 60hz video timing. Additionally, one of the new features was support for 4:2:0 sub-sampling.  This reduces the color information by 75% which reduces the overall data rate by 50%. In other words, support for 4:2:0 allows 4k 60Hz 4:2:0 to be transmitted within the same bandwidth as 4k at 30hz 4:4:4 or non-sub-sampled. On UltraRes, because we do have a very flexible and capable architecture, we were able to add support for 4K at 60Hz 4:2:0 with  a firmware upgrade that was made available to customers earlier this year.
Other new features include Rec. 2020 color imagery and this is a new wide gamut color space that encompasses most of the visible spectrum. It was released at a similar time as the rest of the UHD standards and it's intended that sometime in the future that 4K panels will all have the Rec. 2020 color space, although that is likely to be many years out, probably near the end of the decade (thus the name of the standard 2020, perhaps).
Other features include native 21:9 aspect ratio support. So if, for those of you that have a Blu-Ray® player, you'll notice that there are black bars on the top and bottom of the signal and that's actually encoded into the video that's being transmitted rather than just sending the active area that's in the middle. So this enhancement allows for the content to be sent at a native wide screen aspect ratio to get higher resolution. You'll also get 32-channel audio with HDMI 2.0 and it can support up to 4 audio streams, as well.
And finally, one of the new features added has been HDCP 2.2 and this is a new encryption scheme that's intended to be used for 4K content and so it's expected that native 4K content that requires encryption will be required to use HDCP 2.2. It's a more robust scheme than HDCP 1.x.  As you may recall, there was a master key hack on HDCP 1.x which compromised the scheme and they came up with a new more robust revision with enhancements to the overall encryption scheme that allow it to be used in areas other than just HDMI and DisplayPort.
It's also worth noting that HDMI version numbers don't accurately reflect the feature set of the products. So merely saying the product is HDMI 2.0 compliant in itself doesn't say a whole lot because almost every feature within that standard is optional. So for example you could have an "HDMI 2.0 compliant product" that doesn't support 4K or 3D or deep color or audio or many of the other features for that matter. And so in order to properly reflect the feature set in the product, what really should be said is HDMI with 4K support or HDMI with 3D support or HDMI with 4K 60 4:2:0 support. In most cases when people are asking about HDMI 2.0 support, what they're really asking is if the product supports 4K at 60Hz.
How does HDMI 2.0 compare with HDMI 1.4a?
| | | |
| --- | --- | --- |
| Spec | HDMI 1.4a | HDMI 2.0 |
| Max Resolution | 4K @ 30Hz | 4K @ 60Hz |
| Color Subsampling | 4:4:4 and 4:2:2 | 4:4:4, 4:2:2 and 4:2:0 |
| BT.2020 Colorimetry | Not Supported | Supported |
| 21:9 Aspect Ratio | Not Supported | Supported |
| Max Audio Channels | 8 | 32 |
| Max Video Streams | 1 | 2 (intended for L/R 3D) |
| Max Audio Streams | 1 | 4 |
| HDCP Version | 1.x | 1.x / 2.2 |
Which products in Planar's line-up support HDMI?
HDMI 2.0 will be fully backwards compatible with earlier versions of HDMI which means you can use a source with a HDMI 2.0 output on displays with HDMI 1.x inputs.  The exception here might be if HDCP 2.2 is required and the source doesn't revert to HDCP 1.x.  Like all connectivity standards, version numbers don't necessarily reflect the feature set of the products.  See specifications and product manuals for each individual model for details on which features the display will support. 
Planar's large flats with HDMI connections include:
HDMI is also the interface on the Planar® LookThru™ transparent LCD and is available on Planar's Clarity® Matrix™ LCD video wall system.  You can also find HDMI on a wide number of desktop and touch monitor products from Planar, including the new IX-Series monitor, Planar IX2850, with 4k resolution.
Which products in Planar's line-up support 4k at 60Hz via HDMI or other digital input?
Today, the Planar UltraRes product supports full 4k resolution at 60Hz in both 84" and 98" sizes.  Both sizes are available with MultiTouch capability for interactive experiences.  The new Planar IX-Series desktop monitor, Planar IX2850, delivers 4k at 60 hz in a 28" desktop format.