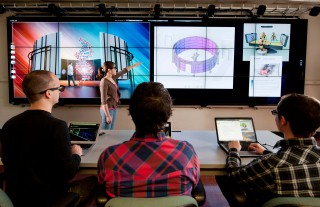 Planar Display Screens Connect Like Legos to Form a Big Seamless Image
Very few companies in the world can claim Planar's pioneering legacy in display technologies. From secretive advanced-projects lab that developed the first flat panel displays for laptop computers in the early 1980's to large displays that plug together like Legos to create big video canvases, Planar has been innovating for decades. 
Here are a few of the technologies that demonstrate innovation:
Planar® Clarity® Matrix™: The potential for a giant display is here today with Clarity Matrix. This tiled LCD video wall system utilizes the latest LED backlight technology, ultra narrow bezel (UNB) panels, and a highly unique architecture of off-board electronics to bring visions to life. Whether customers are using the large screens to watch television or movies, browse the Internet and read email, access network video sources, interface with PCs, and mirror tablets and smart phones, possibly simultaneously – the possibilities are endless. While the largest single display screens in the world today might be 110" or 150", our customers have implemented Clarity Matrix video walls that measure in the hundreds of square meters. Designed for easy installation and perfect alignment, the Clarity Matrix delivers a virtually seamless image for a variety of applications. The video wall is also available in a MultiTouch configuration, complete with Planar's proprietary ERO™ (Extended Ruggedness and Optics™) feature for enhanced performance. 
Planar® Clarity® LED3 Rear Projection Displays: These displays run some of the most influential control rooms and situation rooms in the world. The imagery displayed on these video walls help nations make policies, companies make investments, and researchers visualize life-saving and life-changing innovations. Available with integrated processing, Indisys Extensity, the system can make the displays work seamlessly as one giant screen and then allow multiple sources or windows to be displayed simultaneously.
Planar® Mosaic™: This architectural video wall system allows the combination of several shapes of sizes of displays to create artistic and even sculptural video wall arrays. With the modular pieces, the screen area can be made into different sizes and shapes. From company logos to nature imagery, the uses for Planar Mosaic are numerous. The included video processing allows a non-linear array to work like a single canvas, with the negative space, arbitrary rotation, and even overlapping displays to create a one-of-a-kind statement installations. 
We have a strong background in display technology and it shows in our innovations everyday. Hundreds of customers have deployed the systems and you can learn more about our unique and innovative solutions at casestudies.planar.com.