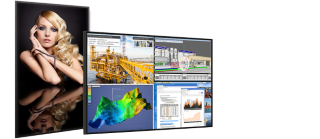 What's New in DisplayPort 1.3
Jennifer Davis, V.P of marketing for Planar, recently caught up with Marques Girardelli, Planar's electrical systems manager in the R&D organization and Becky Connors, product manager for large format displays, to ask about the emerging connectivity standards around DisplayPort and HDMI.  
What is new in the DisplayPort 1.3 standard?
DisplayPort is the digital display interface developed by the Video Electronics Standards Association (VESA).  It is an interface primarily used to connect a video source to a display device, like a computer monitor or a video wall.  The main feature addition in DisplayPort 1.3 was a 50% increase in bandwidth allowing support for up to 8K at 30Hz. Additionally, DisplayPort 1.3 added support for 4:2:0 sub-sampling like HDMI 2.0 and this provides the ability to support up to 8K at 60Hz 4:2:0. Other features carried over from DisplayPort 1.2 include Multi-Stream Transport or MST and this is the ability to daisy-chain several monitors together in order to be able to drive multiple monitors from a single output, which is a featured aimed at desktop applications, but has too many limitations to be considered a viable video wall feature.
Other features include 3D and audio including HD audio and finally DisplayPort dual mode also called DP++, which allows HDMI to be output from DisplayPort sources via passive HDMI to DisplayPort cable or adaptor. This will continue to be supported but at a reduced bandwidth, only 1080p max. HDCP 2.2 support was also added to stay on par with HDMI 2.0.
We have heard about the USB type C connector that is coming to DisplayPort.  What is it and what are the benefits?
Yes, another related announcement in the standard is the USB type C connector, which is a reversible connector.  This means that the plug doesn't have to be oriented in one direction.  This may be familiar to those of you who are using the "Lightning" connector on the Apple® iPhone or iPad where you can plug it in to either direction, upside down or right side up.  The USB type C connector is similar. The main benefit of this new connector is not only does it support super speed USB, but through a feature called DisplayPort Alt Mode, it can also transmit DisplayPort video. And it can do this through a passive adaptor. We would expect laptops and other devices to start supporting the USB type C connector probably sometime in 2015.  There will be a variety of cables available, of course, that interface between the connector types.
Comparing the different versions of DisplayPort, how are the capabilities changing as the versions evolve?
| | | | |
| --- | --- | --- | --- |
| Spec | DisplayPort 1.1 | DisplayPort 1.2 | DisplayPort 1.3 |
| Max Resolution | 4K @ 30Hz | 4K @ 60Hz | 8K @ 60Hz |
| Multi Steam Transport (MST) | No | Yes | Yes |
| 3D | Limited Support | Yes | Yes |
| Video Compression | No | No | Yes |
| Audio | Yes | Yes | Yes |
| HD Audio | No | Yes | Yes |
| HDCP Version | 1.x | 1.x | 1.x / 2.2 |
Has DisplayPort been widely adopted?
Since it's introduction in 2006, we have seen DisplayPort gain popularity in the computer industry.  Predictions from IDC show that DisplayPort will be available on 95 percent of computer notebooks by 2014.  It is still most common as an interface on computers and related equipment and has had limited adoption in consumer devices and sources. OEMs and device makers ranging from Apple®, Microsoft®, Google®, Dell™, Lenovo ® are among VESA members that offer DisplayPort-only products.
Which products in Planar's line-up support DisplayPort?
DisplayPort 1.3 will be fully backwards compatible with earlier versions of DisplayPort which means you can use a source with a DisplayPort 1.3 output on displays with DisplayPort 1.1 or 1.2 inputs.  DP version numbers don't necessarily reflect the feature set of the products.  See specifications and product manuals for each individual model for details on which features the display will support. 
Planar's large flats with DisplayPort connections include:
DisplayPort is also the interface on the Planar® Mosaic™ architectural video wall product line and is available on Planar's Clarity® Matrix™ LCD video wall system.  You can also find DisplayPort on a wide number of desktop and touch monitor products from Planar, including the new IX-Series monitor, Planar IX2850, with 4K resolution.