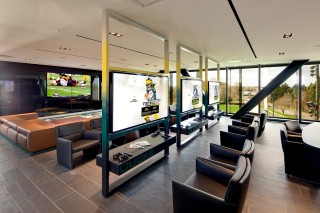 What football teaches us about AV
It is college football season in the States. In our house, we kicked off our season by watching a non-conference game of one of the "hometown" teams, the University of Oregon Ducks. Watching the game - and thinking about the team's recent installation of a new athletic complex, the Hatfield-Dowlin Complex – it struck me that college football can teach us a thing or two about the AV industry and how the integrators and brands can remain relevant in times of change.
1. You Have to Play Each Game
You can have the best win record in the conference, the best facilities, and a history of winning innovation, both in football and in AV the team and the coaching staff are always judged by the last game or the last installation. There is a constant pressure to grow, to adapt, and to succeed. You have to put points on the score board. You can't rest on your laurels or your high-profile marquee customers. You must go out each day and build fans.
2. Fan Loyalty is Critical
Unless the stadium is full, the players are not at their full potential. When you see a vibrant fan base on game day, the stadium is electric and filled with team colors and spirit. It is a spectacle you can feel when you are at the game. The same goes for AV. Building prospects into customers and customers into fans is what builds businesses with lasting legacy. The loyalty of those fans over time not only creates more opportunities with them, but with everyone they tell. That word of mouth is cheaper than any other kind of advertising and is the backbone of the leading suppliers in the industry. The fans are why they win.
3. Investments Ensure the Future
If you are the coaching staff at a university, you can never stop recruiting, never stop building the strength, judgment, and knowledge of the team, never stop looking for the right talent to partner with to grow the organization, and never stop creating the environments for training and learning that ensure success into the future. In short, you can never stop investing. The same is true for the AV industry. The installers must be constantly learning and InfoComm's CTS training program is one of the many tools at their disposal. Sales teams must be constantly monitoring technology trend and customer needs to determine how to utilize the latest technology to accomplish more.
In this season when games are won, reputations are secured, and legacies are ensured, one thing you can count on is change. But with your head in the game, fans singing your praises, and with strategic investments in what matters most, you can create your own success now and into the future.