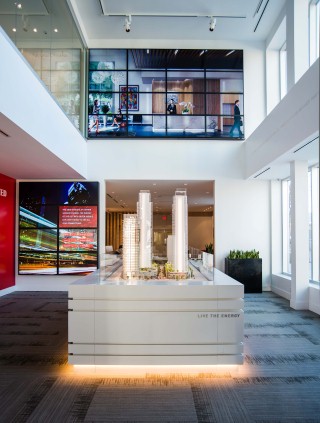 Planar PS Series and EP Series Help Bring New Development Project to Life
Digital marketing is an apt description for how the developers of Station Square - a bold, new residential and commercial community in the Metrotown area of Burnaby, Canada – are presenting and promoting the project to prospective customers and members of the public who will visit and patronize the many retail, commercial, entertainment and cultural locations and events Station Square will offer. 
In its vibrant and engaging sales center in Station Square, Anthem, with its partner The Beedie Group, has installed two large video walls from Planar. On these video walls, visitors can see a dramatic rendering of the entire Station Square project, and also use a touch feature on the displays to navigate through the project, explore the many residential and retail opportunities available, see all nearby locations of interest, even learn the distances and travel times from Station Square/Metrotown to downtown Burnaby, the Vancouver airport and elsewhere. 
In the Anthem sales center one Planar video wall is a 4 x 4 array of Planar® PS Series 46" displays. Anthem chose this product for its big video wall in order to make a big impact with the architectural rendering of the entire Station Square project. The sales center's second touch video wall is a 2 x 4 configuration of Planar® EP Series large-format professional LCD displays.  Read more