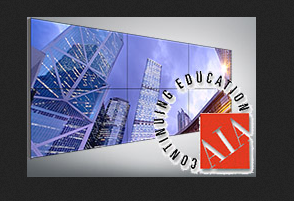 Designing Media Walls
Leading architects and designers can now learn how to incorporate digital media walls into their plans as part of the American Institute of Architects Continuing Education Program. Planar is committed to providing comprehensive training and support to our valued reseller partners and offers multiple training courses tailored to different product knowledge needs and skill levels.
Being an approved provider of American Institute of Architects Continuing Education System credit classes, our new class entitled Designing Media Walls: Imagery, Videos and Information on Digital Canvases is now being offered as a free one-hour lunch-&-learn or after-hours session for architects and interior designers. Most sessions are conducted privately at design firm offices, but two upcoming sessions are open to the public:
August 29, 2013: After-hours session at the new OFS Brands showroom in Manhattan.
October 4, 2013: Lunch-&-Learn session at the AIA San Francisco chapter office.
For more information about the Planar AIA CES program, please visit our Continuing Education page or email AIA@planar.com.