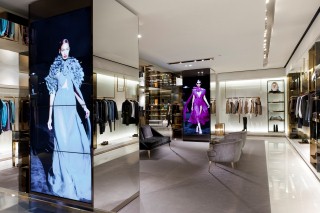 eTail Showrooms
There is an interesting trend occurring that contradicts the pundits who predict the demise of brick-and-mortar: pure-play etailers dabbling in physical stores.
Last September, Gap-owned Piperlime opened a shop in the Manhattan neighborhood of SoHo, showcasing highlights from their line. Online eyeglass retailer, Warby Parker, opened physical stores in New York and on Newbury Street in Boston this Spring, expanding their "try at home" program to try in the store. Just in time for their well-publicized "Man of Steel" product tie-ins.
Neil Blumenthal, founder of Warby Parker summarized it well in an interview last month with Lauren Sherman from Advertising Age when he said "As awesome as the internet is, somebody can experience a brand in a physical setting in a way that no digital experience can replicate. In five years, when people use the term 'retail,' it'll mean both physical and e-commerce. The phrase 'e-commerce' won't even be used anymore."
The online antiques brokerage, 1stDibs, made news in 2011 by opening up their first physical showroom at the New York Design Center taking over the entire 10th floor at 200 Lexington. When asked about their move to brick-and-mortar, 1stdibs founder Michael Bruno told Apartment Therapy that they wanted to expand their "services beyond the virtual world while still utilizing technology to enhance the shopping experience."
It used to be that "shopping" and "buying" were co-located activities. Now, they are separate in the customers mind and smart retailers are taking advantage of this shift to change their retail concepts.
Why it matters to the AV industry: eTailers moving to physical stores require more video, computing, and audio equipment than other brands, since they want close tie-ins with their online properties. This could include internet kiosks for in-store-ship-to-home purchases or digital signage showing virtual inventory. The possibilities are endless and likely coming to a mall or high street near you. As many electronics retailers expand their online presence, they can rethink their physical showrooms in this new context and redesign to enhance the customer experience, while reducing unnecessary overhead.
Planar's innovative Touch and Video Wall solutions include LCD video walls, architectural video walls, rear projection video walls and image processing - each specifically designed to deliver precise and brilliant visual messages needed in these eTail showrooms. To see Planar products in action, watch this video.