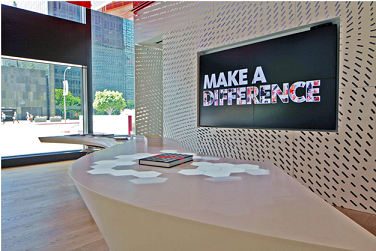 Interactive Lobby Video Wall Creates a Unique Immersive Experience
Having selected Planar for its best-in-class video wall technology, global design firm, Gensler, entered into close collaboration with a billion-pixel interactive agency, The Hive, to create the immersive exploratory platform it calls the Gensler/Hive Multi-Surface Experience. This platform features a touch-enabled table on which a visitor selects content about Gensler and its work in numerous locations worldwide. The user browses through the content and then views selected information in larger-than-life form on the array of Planar displays, in 4k playback enabled by YCD | Wall. 
The displays are especially important, because in combination with the interactive interface they help represent a new and highly flexible communication platform for architects and designers. Installed in May of 2013, the experience features Planar's Clarity® Matrix™ MX55 video wall displays in a two-by-two array. With the Clarity Matrix MX55 video wall, Planar has delivered a solution that focuses one's attention on the quality of the content.
View the Gensler Case Study or read the press release. Also check out the featured article on Engadget as to how augmented reality table lets you explore a book without opening it at http://www.engadget.com/2013/08/20/gensler-the-hive-multi-surface-experience/