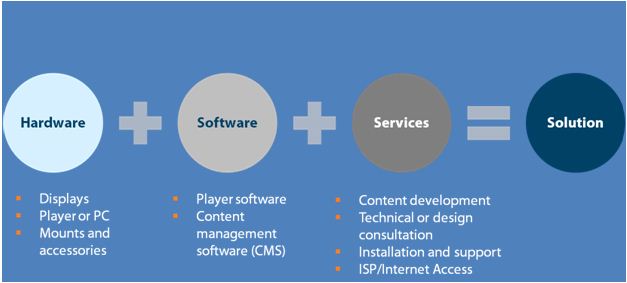 Digital Signage Ecosystem
Deploying a digital sign or a digital signage advertising network requires multiple components. The selection of hardware, software, and services combine to create a solution.

Planar provides high-performance, reliable and high-value displays and related accessories that ensure that the digital signage installation will look great. Combined with player technology, either the Planar® ContentSmart™ media player or other such device, a stand-alone sign has never been easier. Just add "content" or create it in the included software, and you can have a working digital sign right away.
For more sophisticated installations, clients layer on a content management system for remote asset management, playback control, and monitoring. Often contracting with marketing agencies or other content creation firms, the content can be matched to dayparts, triggered by interactivity, and managed for "proof of performance" required for billing advertisers based on ad play. These are all part of the larger ecosystem for digital signage. For more information about trends in the market and our offerings for digital signage, see our market solutions overview online. We partner regularly with software companies, content creation firms, technical consultants, and player and PC manufacturers to help advise clients on the best solutions for their needs. Working with leading resellers and integrators, with experience with these complex systems, ensures that end clients maximize their investments in digital signage.
How has Planar partnered with you in the digital signage ecosystem? Tell us at Twitter using the hashtag #PlanarExperience.