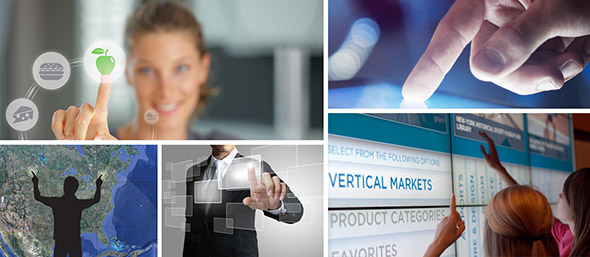 The birth of the interactor: Planar drives interactive experiences
The world is buzzing about interactivity with nearly 11 million Google searches every month on the topic. Among our customers and clients, the conversations around digital signage are trending more towards creating interactive experiences. At it's heart, interactivity is the intersection of information science, communication, and industrial design.  The interactivity can be as simple as sliders or buttons on a kiosk screen or something that enables content on the display to react to input from a mobile device or third-party data source, like social media streams. It is the push-and-pull of information or content based on physical action by the interactor. Without an interactor, there is no interaction. No experience. No reason for the investment, the installation, or the effort.
Planar is enabling the interactor in two distinct ways:
1. Product innovation: Planar is a world leader in interactive touchscreen technology, recently pioneering desktop and video wall multi-touch in the market, with our Planar Helium and Clarity Matrix MultiTouch products, to name a few. Products as varied as 15" open-frame monitors to 80" Planar UltraLux digital signs are available in touchscreen variations and the product breadth continues to expand.

2. Partnerships: Some of the leading content development firms, marketing and branding agencies, designers, and software development companies rely on Planar technology to create experiences for their customers in retail, hospitality, corporate, and control room environments. We actively collaborate to deliver innovation, consult on new projects, and creatively explore the edges of what is technologically possible.

What are your favorite Planar interactive experiences? Let us know on Twitter using the hashtag #PlanarExperience.