A Thirty-Something Gala: Planar Applauds Storefront for Art and Architecture's 30 Years
Storefront for Art and Architecture is turning 30 and to celebrate they hosted a gala and silent auction at 5 Beekman Street in New York City.  This former mansion of palatial scale sat idle for decades and is slated to be re-envisioned at a luxury hotel property.  But before construction began, the hundreds of guests at the gala were treated to its raw intimacy.  And the facility didn't disappoint.

The towering 9 story atrium with views of the cold night sky and the art installations throughout the building combined to create a unique immersive experience.  On the ground floor, facing up towards the towering ceiling were four Clarity™ Matrix LCD Video Wall displays, spaced out amidst a paper art installation and running a loop of imagery.  It was visible from a walking path on the ground floor and also from balcony views from the 9th floor, where the party was held.

We thank Storefront, Eva Gilbert-Franch and her team, the board of directors, and the volunteers, artists, and advisors that made the event possible. Learn more about the Clarity® Matrix™ LCD Video Wall System.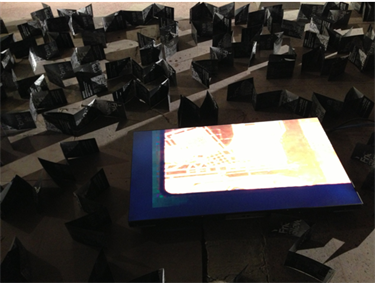 A close-up of the Clarity Matrix display as installated at 5 Beekman for the Storefront for Art + Architecture 30th Anniversary Gala.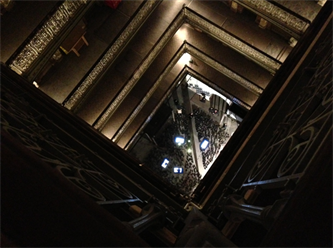 View looking down from the balcony of the 9th floor, with the bright Clarity Matrix displays glowing from the ground floor.