I'm Loving It
Ever since Daniel Pink published a travel tip about the hidden benefits of eating at McDonald's when you travel internationally (you can get a clear picture of cultural and gastronomical differences in short order, pardon the pun), I have been fascinated by the differences in McDonald's menus around the world.  Chicken Mexican Wraps, a McRice burger, or lobster rolls are all on the menus at McDonald's somewhere (Mexico, Taiwan and Montreal, respectively).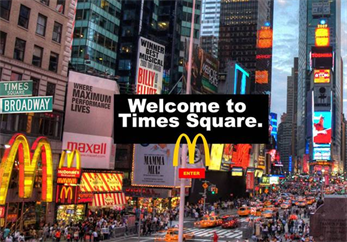 Photo courtesy of McDonalds Times Square
Fast forward to this past month when Portland-based brand fan, Jeb Boniakowski, posted an open letter to McDonald's executives on TheAwl.com suggesting that McDonald's create a McWorld in Times Square showcasing their food from all over the world.  "The central attraction of a ground-floor level is a huge mega-menu that lists every item from every McDonald's in the world, because this McDonald's serves ALL of them.  There would probably have to be touch-screen gadgets to help you navigate the menu.  There would have to be whole screens just dedicated to the soda possibilities.  A concierge would offer suggestions…Maybe a bowl of Malaysian McDonald's Chicken Porridge or the McArabia Grilled Kofta, available in Pakistan and parts of the middle east," he suggests.  In a city that epitomizes the melting pot of America, why not unite the  world's fast food kitchens under the ubiquitous golden arches?
I could see the face of this McDonald's borrowing a page from Hollister's 5th avenue store playbook, building a multi-story video wall façade that takes people into the places where this global collection of food.  Perhaps live camera feeds from various cities to give you a virtual street view.  A wall of Planar® Mosaic™ leading up the stairs that would tell the story of the people and places in a montage effect that is more architectural.  They could do something similar to Starbucks at Times Square and create a social wall where citizens from all over the world can comment on their McDonald's experiences in real time and see them on signage in the store.  Complete with touch-screens where menu items could be browsed, food ordered, or favorites voted upon and shared socially.  As Jeb alluded, the tie-in with soft drink giant, Coca-Cola are obvious.  A vending machine, outfitted with a Planar® LookThru™ transparent display could allow visitors to conduct their own blind taste tests of recipes across the world.  The possibilities for display, interaction, and collaboration are endless.  All the international appeal of the athletes village at the Olympic games, without the drug tests and judging scandals.  What a wonderful platform it would be for storytelling and brand-building on a large scale.
I regularly visit New York and can't wait to bring my souvenirs from McWorld!  Come on, let's make it happen!
-Jennifer Davis