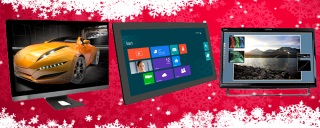 Planar Holiday Gift Guide
This holiday season, Planar has put together a list of a few products that make will great gifts.
Shopping for the artist or analyst? The Planar® PXL2790MW Quad HD monitor offers a bezel-free display that fuses design and technology, extra desktop space with quad HD resolution (2560x1440) and provides vivid, life-like image quality at every angle. Recently reviewed by Tom's Hardware, the Planar PXL2790MW QHD monitor "introduces a sense of luxury to the business class."
Planar® Helium™ Series monitors are ideal for pairing with a new Windows® 8 computer or laptop this holiday season. The multi-touch Planar Helium Series monitors come in 24- and 27-inch options and both are perfect for the edgy, tech-enthusiast in your life. Planar Helium Series monitors are optimized for the all-new touch interface of Windows® 7 & 8 and are ideal for use by software developers and designers, corporate power users, enthusiasts and retailers.
You and your kids will love the Planar® PXL2230MW and PXL2430MW dual-touch screen monitors. The monitors are optimized for consumer multimedia applications – such as reading documents, turning the page of an eBook, flicking through and re-sizing digital photos or playing games. These stylish, economical monitors transition from homework to games and social media seamlessly.