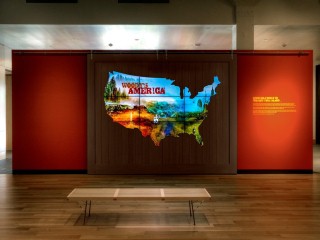 Woody Guthrie Center Brings an American Icon to Life
Folk music, a remarkably complete personal and professional archive and modern touch-screen technology combine to tell the story of an American cultural icon at the newly opened Woody Guthrie Center in Tulsa, Oklahoma. The center offers visitors the opportunity to learn about the influential musician's life and work through a variety of informative exhibits, including approximately 25 interactive experiences.
Museum-goers of all ages are enticed into the center to learn about Woody Guthrie as a result of its extensive use of technology, including several arrays of advanced displays from Planar Systems. One's first encounter with Woody is at Woody's America, an interactive map in the entrance area based on a nine-panel (3 x 3) array of Planar's Clarity® Matrix™ LCD Video Wall displays (LX46HD-L) measuring nearly 75 square feet. Since the video wall is equipped with Planar's unique Extended Ruggedness and Optics™ (ERO™) feature – an optically-bonded glass protective surface – hundreds if not thousands of people can touch the Clarity Matrix video wall every day, much like they touch their smart phones and tablets, to enter the world of Woody Guthrie and explore his writing, art and music in exquisite detail. The Clarity Matrix video wall stands up to the task, performing reliably up to 10 hours a day, six days a week, nearly all year-round.
The Planar video wall is a really important asset to the center. It draws people in, introduces them to the world of Woody Guthrie in a unique way, and helps create an environment that they'll want to experience again and again. Planar Clarity Matrix meets the needs of a demanding, high-traffic environment, with features such as a touch-based system, a design that ensures reliability by remotely locating heat-inducing elements, redundancy in key components that all but guarantees uninterrupted operation, and an industry-leading warranty which ensures two-day replacement should a display ever fail. Clarity Matrix delivers on image quality; notably in its 1920 x 1080 HD resolution, 700-nit brightness, and 3500:1 contrast ratio. These are important, because so much of the map content is based on enlarged and digitally enhanced versions of Guthrie's sketches which depict what he saw and experienced as he traveled across the U.S. Clarity Matrix allowed us to scale up this content and have it retain its original look on the video wall; that's really important because people are looking for authenticity. 
Read more about our how these interactive experience will draw more visitors  at the Woody Guthrie Center.