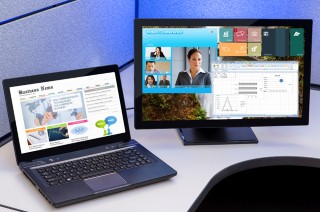 Touch on Desktop
We're all looking for ways to increase our daily productivity. Specifically designed to take advantage of Microsoft Windows® 8's touch-enabled features, Planar's Touch on the Desktop monitors includes 22-, 24- and 27-inch full HD monitors optimized with multi-touch interactivity for the utmost productivity.
Here are three scenarios for introducing a touch screen monitor into your desktop life:
• Pair either your Planar® Helium™ Series 24" or 27" touch screen monitor with a powerful tower PC for engineering, designing and graphic-heavy applications. The touch screen monitor allows you to flick, scroll and zoom quickly and accurately to accomplish your work. The Planar Helium Series monitors work well with a dual monitor stand for an extended desktop work environment.

• For the style-conscious corporate user, the Planar Helium PCT2265 offers simplified peripheral docking for on-the-go users. The monitor's dual-hinge desk stand allows you to quickly move from passive viewing to full touch screen interaction with no hassle. With a side USB 3.0 Hub, the Planar Helium PCT2265 allows for quick docking of a smart phone or tablet - we like running ours with an UltraBook.

• Run your Planar® PXL2240MW with your tablet. Enlarge your workspace by plugging in your tablet and stay up to date with email, social media, videos and games. Perfect for on-the-go users checking in with work or school between traveling, work and events.
Planar touch screen monitors increase productivity and bring the touch experience alive when paired with an Ultrabook®, tablet or desktop PC.