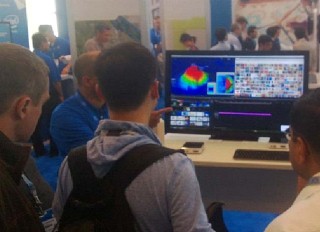 Ultra HD on the Desktop
Full HD has been around a while and is the current display resolution of choice for most desktop environments. But as we've become more dependent on digital information and feeds, the 1920x1080 resolution of Full HD has become limiting. Many people have discovered that by combining multiple Full HD displays, you can increase productivity by as much as 200 percent. Users that have multiple screens won't go back to a single screen and report increased user satisfaction.
However, professionals with deep pockets have long known that there are better options than Full HD. So The next level up is QHD or 2560x1440 - these displays give 77% more desktop space than Full HD. In addition to better resolution, they do a better job of representing color. Recently, Planar launched the Planar® PXL2790MW QHD monitor which gives you 77% more desktop space, better color, and has the added advantage of being easier on the eyes – text will look sharper and crisper. A person that uses a QHD display will be hard pressed to go back to Full HD.
As TVs and large format displays (such as Planar® UltraRes™ Series) are moving to Ultra HD or 3840 x 2160 resolution, so too will desktop monitors. These monitors give you four times more desktop space than a full HD display. Effectively one Ultra HD desktop display can replace four full HD displays. The change in productivity is dramatic as is the context of visual information. Imagine seeing four time more search results, opening multiple spreadsheets, multi-tasking across multiple applications and social feeds, or seeing higher resolution photos in their full context and beauty. In addition, these displays are capable of displaying a billion colors for the truest color representation and the images are remarkable when compared to a full HD display. The combination of resolution and colors means that we can deliver a retina-like experience on the desktop, similar to what you get on today's smartphones. There is no pixel image on the screen and the text and images are perfectly clear and brilliant. Recently, Planar showed a concept of Ultra HD touch desktop display at the Intel Developer Forum.
Desktop display are more important than ever in a mobile world – we are constantly on the go checking our phones, browsing on out tablets, and in coffee shops and airports with our Ultrabooks™ tablets, so when we do sit down at our desk, we want to be extremely productive and uninhibited by the technology – Ultra HD displays represent the pinnacle display technology in reaching that goal.