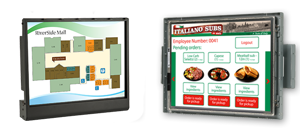 Planar open frame LCD monitors come ready for integration into any industrial or commercial application. Leveraging our existing display technology with superior engineering and production knowledge, Planar can help create your custom display solution.
Planar industrial open frame displays deliver cost-effective, high quality display solutions for OEMs and system integrators requiring displays integrated into an application. Planar open frame monitors are available in a wide range of sizes, resolutions, and brightness, making them ideal for commercial applications from retail to gaming, hospitality to kiosks.
Planar also specializes in a wide variety of custom LCD display technologies and can customize displays to meet your specific or unique display requirements. Planar combines existing display technology with our engineering and production expertise to achieve superior results.