Utilizing the latest LED video wall and floor technologies, together with motion capture sensors and cutting-edge software, Leyard Reality Solutions enables immersive environments for real-time exploration.  Professionals come to the Leyard Reality Solutions to explore 3D models in the physical space whether they are creating broadcast content, visualizing volumetric data for analysis or exploring virtual worlds for collaborative game play.
Full Solution for Panoramic Simulation
The highly-customized system starts with your choice of Leyard® LED video wall and flooring, an OptiTrack® precision motion capture system, a tracking rocker camera and corresponding service and support to assemble the hardware configuration.  This set-up is accompanied by a suite of software and services for 3D simulation, spatial positioning and tracking, multi-channel 3D suture system and PBR real-time rendering, as well as custom 3D model and content development upon available upon request.  The entire system is designed and tested for your application and delivered complete, along with user and operator training.
Proprietary 3D Suture Adds Realism and Depth
Traditional stitching or alignment of LED displays into multi-display configurations may align the image and choreograph content across the display surfaces, but it does not alter the content for perspective.  This can cause 3D objects to appear warped, twisted, stretched or flat.  Leyard's unique 3D Suture technology, developed by Dahooo, a Leyard company, includes special positioning to display content with spatial perspective effects.  When combined with high quality 3D models, the scene does not appear digital to the viewer, but real.  Viewers think they are seeing 250 feet or 400 kilometers into the distance, instead of at a set made up of LED video walls in close proximity.
Superior to Green Screen, Ultimately Flexible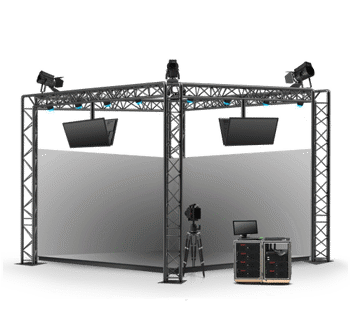 Without the traditional downsides to green screen technology, Leyard Reality Solutions is both superior and flexible.  The camera location or actor in the scene can be sensed to provide unique views and visual clues to the person on-set.  There are no wardrobe color limitations and it is incredible accurate even around objects, furnishings, and props.  No longer are studios resigned to one design or the need to construct multiple sets that go under-utilized most of the day.  With this new approach, one set can be used for multiple shows for better cost-efficiency and flexibility.
Collaborative Virtual Reality
Multiple spokespeople or players can be in the scene at once, interacting with the content and sharing the experience in the Leyard Reality Solutions.  For those cases of a player wearing a head mounted device (HMD), the set can be transformed into an accessible and compelling crowd viewing experience.  This brings the personal experience to a group which is perfect for eSports, architectural visualizations, education and other multi-player experiences wanting to use VR, but finding it too limiting or isolating. Leyard can provide a range of 3D model development services to bring skeletal animation in virtual environments to life for your application.  Software enables multi-position and multi-mode switching allowing AR, VR and 3D stereographic views of the experience. 
Perfect for a Variety of High-Performance Visualization Applications
Virtual broadcast set for on-camera viewing
Data visualization and analysis of 3D models
Education or training simulations
Tourism innovation and destination simulations
Military simulation
Architectural renderings and walk-throughs
Real estate development previews
Product design collaboration
Collaborative virtual reality (VR) visualizations and game play
Shared crowd viewing of head mounted device (HMD) VR experiences