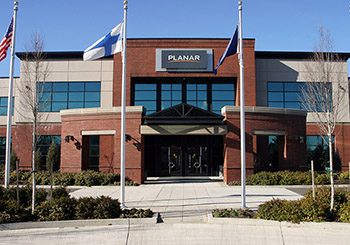 Planar is Your Source for TAA-Compliant Video Products
The United States government sputtered back to life yesterday after President Obama and Congress ended a 16-day shutdown clearing the way for federal agencies to deliver services and welcome back hundreds of thousands of furloughed workers. 
It is common practice for US government agencies and state and local institutions to utilize purchasing guidelines from the General Services Administration (GSA) in order to procure goods and services. Resellers and integrators put products on GSA Schedules, which establishes long-term government-wide contracts with these commercial firms. The GSA estimates that $50 billion dollars a year or 10 percent of the overall federal procurement spending goes through GSA acquisition vehicles. In order for a product to be eligible for inclusion on a GSA schedule, a manufacturer, like Planar, must certify that the country of origin for the product is in compliance with the Trade Agreement Act. Also, any entity that holds a GSA Schedule Contract must certify that each end product it is offering for sale on its GSA Schedule Contract meets all applicable requirements.
Trade Agreements Act (19 U.S.C. & 2501-2581), or TAA, requires that all products listed on a GSA Schedule Contract be manufactured or 'substantially transformed' in a trade compliant designated country. These designated countries are determined by multilateral and bilateral trade agreements that the US maintains internationally. The list of trade agreements that are in place with the U.S. government are part of the Federal Acquisition Regulation (FAR) 52.225-5, Trade Agreements. Based on that information, the U.S. government makes a complete and up-to-date list of the TAA compliant countries available online at http://gsa.federalschedules.com/resource-center/resources/taa-designated-countries.aspx. Most countries are compliant, though notably China and Indonesia are not on the list. Of course, changes implemented by the U.S. government can change the compliance of Planar products, so every month we update the list of TAA compliant Planar products.
As a service to our reseller partners with GSA schedules, we can provide a personalized certificate of origin referencing the sales order, part numbers, and date of shipment, compliant with TAA guidelines for a number of our most popular product lines. These include the following:
• Clarity® Matrix™ tiled LCD video wall
• Planar® Mosaic™ architectural video wall
• Planar® UltraLux™, Planar® EP Series and Planar® PS Series large format displays, including the new tile-able LCD, the PS5580
• Planar® UltraRes™ Series 4k or UHD product offering
• Clarity® LED3 Series of rear-projection video walls 
• Planar® LookThru™ transparent LCD 
• Certain desk stands, arms, and wall mount accessories for displays.
Planar manufactures products in a number of factories across the world, including the facility near our Oregon headquarters. This facility has a state-of-the-art optical bonding facility and years of experience building and configuring a host of video walls, front and rear projection displays, and large format flat panels. We also manufacture and configure products in our factory in France for the EU market.
Planar provides a wide line-up of trade compliant products that make it easier for our authorized resellers to do business with federal, state, and local government entities, for installations ranging from control rooms and military simulations to digital signage and conference rooms.
Clarity Matrix , Clarity LED Series , planar lookthru , PS-Series , ep-series , Planar Mosaic , Planar UltraRes , planar ultralux , planar systems